Mid-century modern and prairie-style homes are prevalent throughout Colorado and are particularly well-preserved in the suburbs surrounding Denver. These low, stylish houses feature the highly distinctive traits of the mid-century era (from 1945 to 1969) but are usually accompanied by a bit of Colorado flavor.
Prairie style vs. mid-century modern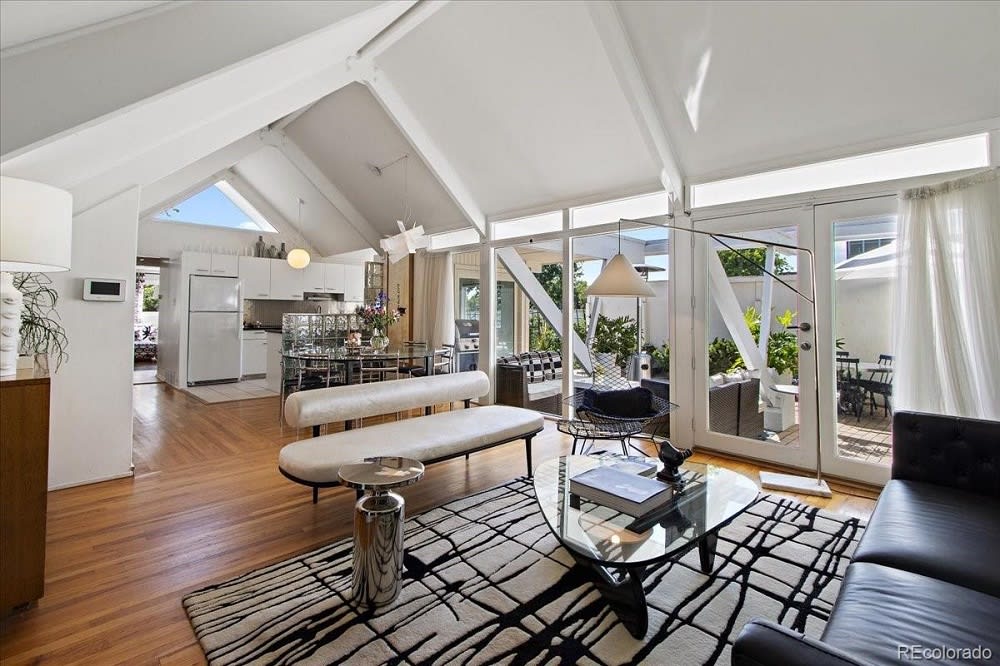 Frank Lloyd Wright's influence is prevalent wherever mid-century modern designs are found. And while he never designed or built a single structure in the state, Colorado's neighbors—Nebraska, Kansas, Oklahoma, New Mexico, Utah, and Wyoming—each feature at least one Frank Lloyd Wright Structure.

Wright created the prairie-style home, the true predecessor to mid-century modern design. It features low, horizontal rooflines, vertical accompaniments, and decorative elements to blend into the surrounding environment. Wide overhangs and asymmetrical accents are also standard in prairie-style homes, with statement-making windows (most often vertically cast) enhancing the curb appeal. Wright would later evolve this discipline into his Usonian period, which further incorporated natural livability into his home designs.

The mid-century modern home is a bolder version of the prairie style. Its most distinctive features are sharp, clean lines, split-level floor plans, organic construction materials, and floor-to-ceiling windows. Mid-century properties celebrate minimalism, with less ornamentation and more open space.

Colorado is an ideal location for both home styles. The natural landscape and dramatic elevation changes provide the perfect setting to highlight each style's more spectacular elements. Even without a Wright signature home, the form he created has evolved to include eye-catching properties throughout the state.

Most frequently in Denver (and further south in Colorado Springs), prairie-style and mid-century modern homes are captured as one of two specialized designs: the contemporary farmhouse and the modern prairie. Many mountain homes will feature prairie and mid-century elements, usually wrapped in a rustic Colorado facade.
Where to find prairie style and mid-century modern homes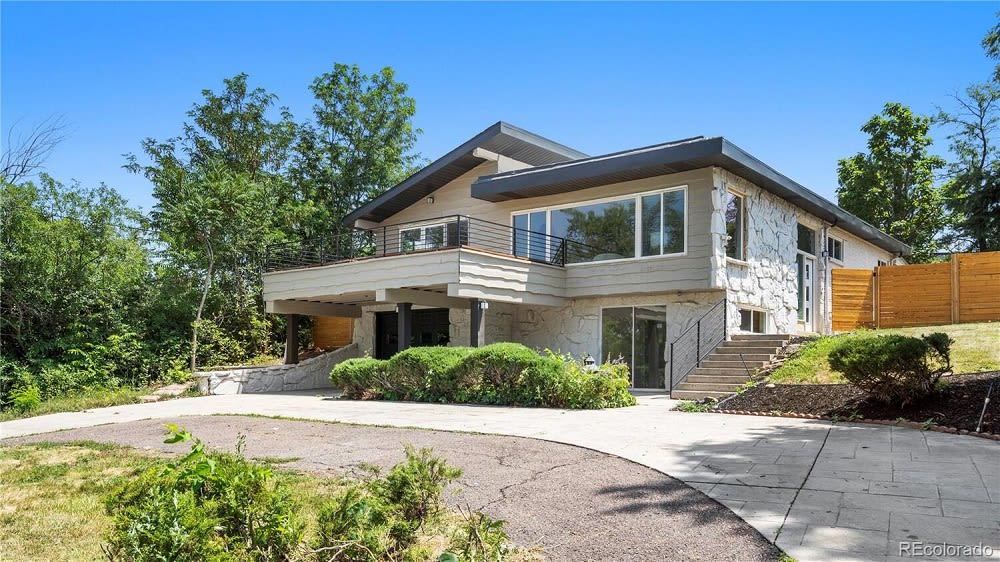 As you might expect with a dynamic metropolitan area, Denver boasts many communities and neighborhoods where prairie and mid-century homes have been well-maintained and remain prominently featured. Here are the most noteworthy neighborhoods in Denver that showcase mid-century modern and prairie style homes:
Perched along South Table Mountain's north slope, Applewood West in Golden is home to a collection of mid-century modern homes—affectionately known as the "Applewood Mesa Ranchettes." These homes offer a uniquely elevated residential environment, and in addition to their architectural significance, the ranchettes offer superb access to the outdoors.

Built as one small section of the larger Applewood Mesa development, these Denver homes date back to the late 1950s. Many of these mid-century designs are custom and have seen additional renovation and restoration over the past few decades (particularly along the winding Foothill Road.) The topography allows for some of the best examples of split-level living.
Listed on the National Register of Historic Places, the Arapaho Hills Historic District in Littleton includes 56 homes that date back to the late 1950s and early 1960s. Twenty minutes from the heart of downtown Denver, many of the houses in Arapaho Hills are textbook prairie and mid-century modern plans.

A handful of properties built in the 1970s diverge from the true mid-century aesthetic, but collectively, this is one of the better-preserved neighborhoods in the Denver area. Adding to its historical importance, between 1961 and 1963, developers built six homes as part of Denver's Parade of Homes, one of which was featured in Better Homes & Gardens in 1961.
Arapahoe Acres, Englewood
A predecessor to Arapaho Hills, Englewood's Arapahoe Acres began construction in 1949. Over the course of three different phases, each with a different architect, the community grew to include 125 residences.

In addition to its collection of Usonian-style homes, Arapahoe Acres is one of the most complete, unified examples of mid-century architecture in the state. Part of the National Register of Historic Places, it was the first mid-century neighborhood in the U.S. included on the list.
The Cliff May Homes, Harvey Park
Architect Cliff May was known for being a Californian designer who specialized in the ubiquitous California Ranch-style home throughout his state. Though he ventured to other parts of the country for small developments or one-off projects, his largest non-California development is in Denver's Harvey Park.

Constructed between 1954 and 1956, the development encompasses 170 homes with seven different floor plans, including a classic mid-century, L-shaped, four-bedroom design. Being a prefabricated development, the individual residences within the community were constructed off-site, shipped to the neighborhood, then pieced back together in a few workdays.
Construction on Deza Estates began in 1955, and the neighborhood featured prominently in Denver's 1956 Parade of Homes. The city of Northglenn came seven years later, and its official incorporation in 1969 included the Deza Estates' 28 homes. Its development history is a bit of a mystery, but Deza Estates was a genuine outpost for its first residents. Modern living, but with well-water rather than municipal sewage.

Sitting on a high bluff, one of the community's major draws was its uninterrupted views of Denver. Though encroached upon by modern architecture, the neighborhood does possess an unmistakable charm that recalls its initial development. The small community is perfect for those seeking investment and upgrade potential at relatively affordable prices.
Dream House Acres, Centennial
While it's not wholly dedicated to the mid-century modern aesthetic, Dream Acres in Centennial features approximately 150 homes that embody the style. It's also in an ideal location, perfect for those who work anywhere in Denver's southern metropolitan region.

The majority of homes in the area eschew the traditional split-level design. Most feature full basements, which can dramatically increase the square footage of these otherwise small houses. Less celebrated than other prairie and mid-century neighborhoods, there's considerable investment potential in Dream House Acres.
Krisana Park, Virginia Village
Arguably one of the best-maintained collections of mid-century modern homes in the west, Krisana Park includes roughly 175 houses, most of which date back to the 1950s. Part of the larger Virginia Village community, Krisana is just one neighborhood in this area featuring mid-century modern design. Krisana Park's sibling development, Lynwood, was constructed around the same period and includes an equally diverse collection of mid-century home designs.

Protecting its architectural roots, Krisana Park boasts a unique approach to preservation. Instead of safeguarding actual structures, homes here may be demolished and rebuilt. However, any new homes built in the community must follow the neighborhood's original design aesthetics. Prairie, mid-century, and Usonian homes are all common in Krisana Park.
South Dahlia Lane, University Hills
Though just 10-acres and featuring only 32 homes, the historical significance of South Dahlia Lane can't be overstated. Developed under a single mortgage in the 1950s, the community was the first single-family home cooperative in the country. Residents, which consisted of Denver University professors pooling their resources to create the neighborhood, could not "sell" individual homes. When a lifestyle change dictated, houses were often swapped between families.

Built around a singular loop with a private park, the cooperative was paid off and dissolved in the 1980s. Many homes have seen updates or renovations over the past several decades. As a whole, the enclave retains much of its mid-century aesthetic. Homes here do not come available often and are hot commodities when listed, regardless of market conditions.
If you're ready to buy or sell a home in Denver's hot real estate market, contact Kelly Thompson to begin your journey. From Littleton to Boulder and beyond, Kelly's years of local real estate expertise and trustworthy service make her the perfect guide when house hunting near Denver.